Men's Clothing
We offer a large selection of quality men's clothing. Choose from a variety of unique men's fashion designs with everything you need, both casual and formal, right here.
Finding suitable, stylish and up to date men's clothing can certainly be a challenge. Do you struggle to stay on top of all the ever changing men's fashion trends? With the increasing rise in online shopping there has never been a better time to shop for men's clothing.
Maybe you just don't know where to start. Most men just like to walk in and buy the first thing they see to save time, right? Any old shirt will do normally. Well not so much any more with the rise in men's clothing becoming more dominant in the fashion industry.
Perhaps you haven't been anywhere near a shop since lockdown. Well fear not, because here at Toleemart we've got you covered. You wont be stuck, we have everything from a range of styles of jeans, shirts, t-shirts, jumpers, hoodies, casual wear and lounge wear.
Unique Male Fashion Designs
At Toleemart we offer a range of cool, fresh and unique men's fashion choices. You won't find better. Choosing the right type of men's clothing can be tough, especially if you don't know where to start. But you can't go wrong with the basics.
Take your style back to basics or go for something a little more out there with our unique men's clothing designs. Plaid shirts are always a hit paired with some nice fitting blue or dark coloured jeans.
Sweat pants and a hoodie for lounging around the house maybe? Or maybe a stylish pair of chinos and a t-shirt with a funky design. Find it all at Toleemart with our huge selection of unique men's clothing designs.
Be More Confident
The man makes the suit, or does the suit make the man? Knowing how to dress well can really help you look and feel better. Great fitting clothes are so important and they are sure to give you a big confidence boost. Look good feel good, right? With Toleemart's large selection of men's fashion you are sure to find something that will instantly make you both feel and look much more attractive. Dress to impress with many men's clothing options to choose from.
A well dressed man isn't always the man with the most fancy or most expensive clothing, definitely not. Being well dressed is all about you enjoying the clothes you're wearing and presenting the most flattering, best version of yourself by channelling this through the types of clothing you wear.
Clean, well fitted clothes are the key to owning men's fashion. Men's fashion can be tricky to grasp and finding your unique style is no easy task, but here at Toleemart, we're sure you'll find a range of men's clothing that you'll love.
Knowing how to dress well to be more attractive is a form of art. There are loads of ways and things you can do to elevate your style and look good. Why not upgrade your attire with some stylish new men's clothing from Toleemart?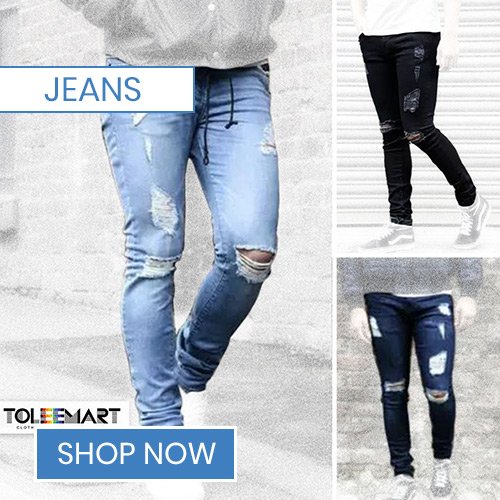 Get Up To Date With All The Latest Trends
As the men's fashion industry evolves it can be hard to stay on top of the latest trends. Maybe you're so out of touch with yourself and the men's fashion industry that you don't even know where to start? Or maybe you don't even care but you still want to look fresh.
At Toleemart, we pride ourselves on having all the latest trends. With everything from stylish men's fashion looks in business casual, smart casual and even just casual. We stock the latest trends so you know you're buying up to date men's fashion trends and don't have to browse the internet to see what's hot or who's wearing what, we're two steps ahead. A quick browse through Toleemart's men's clothing and you will soon be in the know of what's fresh.
Get Creative
Why not get a little creative and blend different styles together? Men's fashion is ever evolving, that's why we have a great selection of different styles no matter what you're looking for. Why not try something new and get creative with it? Instead of some boot cut jeans and shirt, why not try a coloured pair of chino trousers and a turtle neck jumper?
Create your own style and be unique. Todays current men's fashion trends are all about being different and standing out. So why not get the funky t-shirt? Buy the hoodie with the weird design on it and go for those funky socks? Toleemart offers the best, most unique choices in men's fashion. So why not take your wardrobe to the next level and try something new.
Quality Materials
We pride ourselves in knowing that all our men's clothing here at Toleemart, are made from only the best and highest quality natural fabrics and textiles. Natural fibres used to make our men's clothing comes direct from sweet mother nature herself. Originating from animals or plants, and ensuring no harmful chemicals are used in the process.
Cotton is king when it comes to men's clothing. Cotton is probably the worlds most important material when it comes to apparel. That's why nearly all of our men's clothing is made from cotton. Almost all our men's casual wear is made from or contains cotton. An excellent, super soft material which also happens to be extremely absorbent making it a great material for men's clothing. Cotton is reliable and has used across the globe for thousands of years.
Heat passes easily and freely through cotton fabrics ensuring you wont over heat, making it a prime material for summer clothing. Cotton is also much more durable than other clothing materials such as wool, ensuring your clothes life span will last a long time.